Did you finish your Christmas shopping? Did you prep your holiday meal? Me. I did nothing! I have a family that loathe tradition Christmas foods and who loves to shop after the holidays are done. We tend to do Christmas a little different in our neck of the woods, but nevertheless, I managed to dibble in some makeup and shoe purchases recently and had the chance to explore shimmers and glitters with my most recent subscription. Today, we will talk about December's IPSY glam bag. Let's take a look inside.
sparkle, shimmer, and shine
this month's glam bag is called Shine On and based on what I received this bag definitely lives up to its name. The bold, festive colors will make ringing in the new year merry and bright.
First, I have the JOLII COSMETICS Luxe Creme Matte in Lavanda
This liquid lip color is creamy and is filled with the things I love to put on my skin… moisturizing shea butter and jojoba oil.
COLOURED RAINE COSMETICS Glowlighter in Your Treat
I don't wear highlighters, but yeah! It's the holidays. I will try this beautiful bronze highlighter for that extra glare.
NATURELAB, TOKYO Perfect Smooth Hair Oil
I am skeptical when it comes to other's suggestions about what I should put on my hair, but this here is something worth trying. Ingredients are everything to me and that's why I'm okay with trying this oil. Plus it promotes hair growth!
Next, I have the TARTE Amazonian Clay 12-Hour Blush in Party Dress
This is a mineral blush so it is delicate enough for me to try on my (at times0 sensitive skin.
Last but not least from this glam bag, The SUVA BEAUTY Eyeshadow in Empire State
The color pays off on this eyeshadow is amazing! I don't put much glitter on my face, but this compliments me so well. Hopefully, I can master an amazing eye look to serve this eyeshadow justice. We shall see!
The extras!!!!!
IPSY sent me an email revealing all of the clearance or sale items on the site, so I grabbed a few things!
So this is what I purchased… IT Cosmetics Confidence in an Eye Cream
Lately, I've been on the search for an eye cream, because you know, age and whatnot. When I saw this on the site, I grabbed it quick. It was about $4.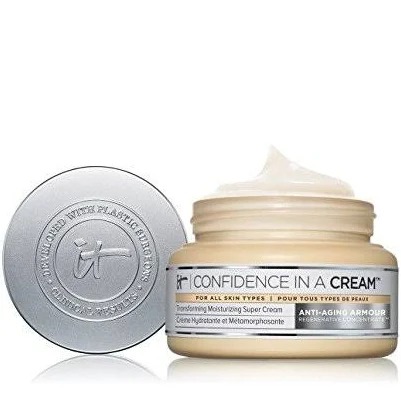 Next, CELA BLACK GOLD Coffee Scrub
I absolutely love scrubs! I love the feeling of removing dead skins and cells. This scrub is made with real coffee and sugar.
Lastly, I got some face masks! Glam Up Sheet Masks in Firming Pomegranate and Refreshing Peppermint
I am excited to step outside of my comfort zone and experiment with things I thought I would never try. The shimmers and glitters and everything in between. I am excited and it only gets better from here on out. Bring it on 2020!!
Remember to go to my IGTV to watch my try-on video!